Residential and Commercial Metal Fabricators
Decorative Metalworks and Solid, Functional Fabrication
At Hammersmith Metal Fabricators, we work with contractors to create, restore, and refurbish wooden and metal structures to accentuate and improve functionality in both commercial and residential spaces.
The "Hammersmith" Process
With a full suite of residential and commercial fabrication services, from CAD drawings to material selection and fabrication, our seasoned craftsmen will effortlessly bring your project to fruition. We begin our process by examining your drawings and specifications. We will create CAD drawings upon request. Our proposal will be accompanied by a detailed description of how we will fabricate the structure including the materials and finishes we intend to use. Once the drawing, pricing and time line is approved, we begin the manufacturing process. In the end, well deliver a finished product that surpasses your expectations in both beauty and quality.
Our process is easy. You simply submit your drawing or design, and we'll respond with a detailed proposal that includes recommendations and cost estimates.

NYC Cooper Park Curved Iron Bench: CAD Drawings to Finished Product
Residential and Commercial Metalwork Projects
We have partnered with local NY, NJ, and CT contractors for over 30 years. Our customized metalworks have ranged from furniture, planters and living walls to fences, lighting fixtures and staircases. Our expertise extends to both primary and secondary operations, as well as all types of fabrication: standard and ornamental. Here are several local projects that our residential and commercial metal fabricators have completed:
High Line Phase I and Phase II, New York City, NY (furniture, railings, light fixtures, and planters)
Queens West, Queens, NY (waterfront bulkheads, railings, and furniture)
Queens West South (waterfront bulkheads,railings, and furniture)
Long Island City Waterfront, LI, NY (waterfront bulkheads, railings, and furniture)
Type of Metal Fabrication Projects
Furniture
Staircases
Planters
Living Walls
Iron Fencing
Tree and Flower Bed Fences
Lighting Fixtures
Tables
Chairs
Benches
Fire Pits
Outdoor Kitchens
Merchandise Displays
Our Materials
Whenever possible, we use locally produced, green and recycled materials on our contracting projects. Our authentic, seasoned craftsmen use materials that best suit for your design, functionality and climate. Our craftsman work with copper, stainless, aluminum, steel, corten, zinc, ipe, teak, and black walnut. From powder coating and patinas to polishing, our metalwork is completely customized to the aesthetics of your design. View full materials list.
ASTOR PLACE
Cooper Park, NYC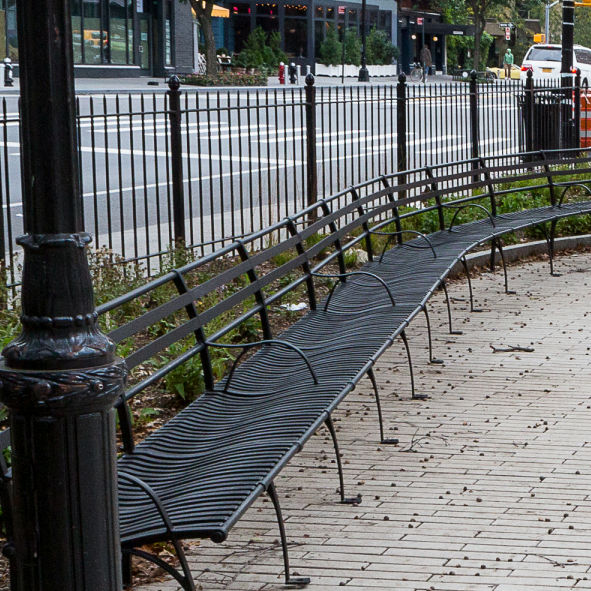 Why Contractors Choose Hammersmith Metal
Fabrication for Commercial and Residential Spaces
Hammersmith Metal has the unique capabilities to produce a vast array of wood and metal fabrication projects. Our architectural and decorative fabrication are committed to delivering innovative, sustainable, customized solutions to match the unique physical qualities, specifications, and style of your project. These customized solutions transcend beyond traditional structure of metal and woodwork to textured finishes and powder coating.
Natural Sustainable Beauty
Conserving environmental resources while preserving natural integrity is at the core of Hammersmith's values. Furthermore, with LEED certified knowledge and experience, our designers can deliver metalworks that reclaim, reuse, and rebuild upon your current space.
Quality You Can Depend On
Because of our commitment to customer service and quality processes, Hammersmith Metal has developed a reputation for creating high quality products delivered on time... every time!
Experience Counts
All Materials, Conditions and Architectures
We offer contractors commercial metal fabrication services for all types of projects. Whether you have an entire project or miscellaneous needs in the New York City, Brooklyn, Staten Island, Long Island, Connecticut and New Jersey areas, Hammersmith's metal fabrication offers the perfect solution for your project.
Material Selection, Guidance and Fabrication
Our expert craftsmen can also advise you on the right metals, woods, and finishes to complement your style and functionality and highlight your space. From living walls and fire pits to railings and custom furniture, our highly adept fabricators are ready to consult with you and transform your vision into reality. We would love to discuss your project and give you a quote on your specification, so give us a call today at 917-865-8791 or email.