Metal Fabrication Shop
Hammersmith Metal Fabricators is one of today's most revered metal fabrication companies. Combining design and innovation, Hammersmith has revitalized urban landscapes throughout New York City, Brooklyn, Staten Island and New Jersey.
"Building The Architect's Dream through Guidance, High Quality Fabrication and Timely Delivery!"
Meet Jeffrey Herkes
Founder of Hammersmith Metal
Located beneath the Brooklyn Bridge, the Waldow factory had manufactured copper cookware for over 100 years. Combining his love for cooking and his desire to create superior heat control with his fascination of the copper and cookware manufacturing process and the factory's rich history and his personal appreciation for American metal heritage, Jeffrey Herkes purchased the company in 1987. Since then, the cookware company has continued to provide superior cooking equipment to both the food service and retail markets.
Jeffrey is a graduate of the Northern Illinois University with a Masters in Market and Period Metal Fabrication. He has worked on 100s of metal fabrication projects including the NYC High Line, Archer Hotel, Plaza Hotel, Ken Cole, Scanska and Longwood Gardens.
"When the sun sets, we can see what we've accomplished by making objects with superior quality and value. We are proud of the good dirt on our hands."
~Jeffrey Herkes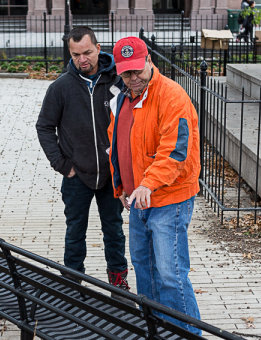 Founder Jeffrey Herkes discussing the Astor Place bench installation with a fellow metal fabricator.
Hammersmith History & Our Holistic Approach
What began as copper cookware manufacturing soon evolved into furniture and lighting fabrication. The company's expertise later extended to ornamental fabrication.
During the first phase of the NYC High Line, Hammersmith was hired for its skill with metals and woods. Partnering with general contractors created the synergies necessary for a complete production process. Hammersmith fabricated the metals and woods for all the corten metal planter edges, railings, lighting and furniture, thus making the sum of the parts whole.
Hammersmith Today
Today, Jeffrey and his team focus on the urban revitalization movement in major cities, such as New York. They also work alongside landscape architects creating beautiful spaces on rooftops and in the gardens of private residences and commercial spaces.
The Metal Shop
Time-tested Craftsmanship
Hammersmith Metal is committed to transforming your vision into a reality. With a unique synthesis of materials and design, we have transcended the boundaries of traditional metal fabrication in both public and private spaces. Our engineers have created breathtaking solutions to accommodate an extensive range of needs: architecture, hospitality, visual merchandising and contract work.
We offer every service in a single metal shop. From CAD drawing to installation, each metalwork service is seamlessly customized from start to finish. Herkes and his team will work with you to select the design, metals, woods, and finishes that complement your style and meet the physical demands of your space.
Selecting the Best of the Metal Fabrication Companies
Why Companies Choose Hammersmith Metal
For over 30 years, Hammersmith Metal has earned is reputation in the metal fabrication industry by distinguishing itself with its time-tested craftsmanship, dependable service and high quality metal fabrications. Below are several more of reasons landscape architects, contractors, builders and urban planners choose our fabrication shop:
Strong conceptual understanding of metal fabrication towards existing landscapes
Extensive work experience on urban hardscapes including parks, waterfronts and rooftops
Versatility beyond landscapes, working in the visual merchandising and hospitality industries
Experienced in all aspects of fabrication from CAD design through installation
Expertise and guidance with all materials, conditions and architectures
Resume that includes some of the East Coast's most renowned metal structures
Company wide commitment to customer service that includes timely delivery
Experience Matters
Our projects are everywhere. Hammersmith Metal conducts metal fabrication and urban landscape services in New York City, Brooklyn, Staten Island, Long Island and New Jersey.
Our unique approach yields metalwork solutions that are both stunning and functional. From architectural structures and lighting to railings and custom furniture, our skilled craftsmen are ready to consult and transform your vision into reality. Give us a call today at 917-865-8791 or email.