Metalwork Services
Hammersmith Metal transforms your vision into a reality with an unparalleled array of metal fabrication services including metal restoration, refurbishing, casting, CAD drawings, powder coating, galvanizing, stamping and more.

NYC High Line Phase 2 Curved Ipe and Corten Bench: CAD Drawings to Finished Product

NYC Cooper Park Curved Iron Bench: CAD Drawings to Finished Product
Metal Fabrication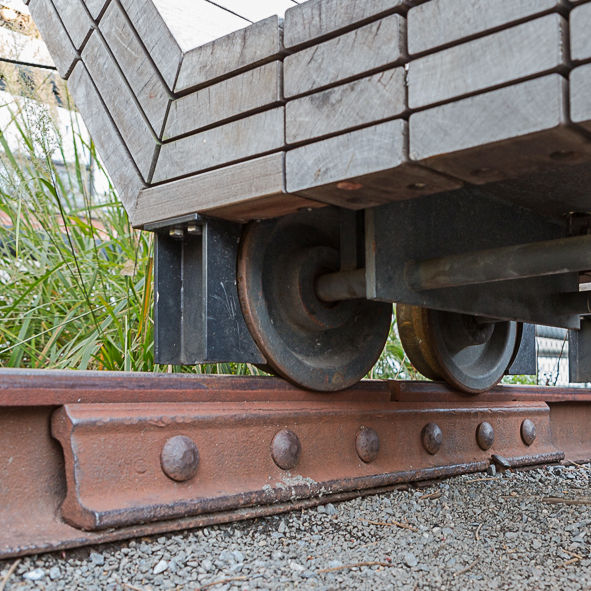 Restore, Refurbish & Reclaim
Metal Restoration
Has your metal suffered from damage, deterioration or overuse? Our metal restoration service is designed to revive your metal, extending its life and restoring its original beauty. Innovative and multifaceted, we tailor our restoration process to the material and the desired finish. Metal restoration saves you the time, energy and cost of replacement while maintaining the structure's original aesthetics.
Metal Refurbishing
If your metal appears damaged or distressed, it's not too late to give it new life. Our refurbishing service will revive your urban landscaping fixtures with a fresh and customized appearance. Like our restoration service, we accommodate all materials and finishes.
Metal Casting
Whether your architectural design is simple and streamlined or complex and intricate, our metal casting service transforms your concept into a reality. Our metal fabricators liquefy the material, molding into any given shape or size. Our craftsmans' skill in metal shaping enables our urban landscaping fixtures to exceed the traditional realm of metal fabrication. Working with all materials, our metal forming approach also includes cutting, metal bending, metal spinning, metal rolling, welding and metal stamping.
CAD Drawing
Drawing services are crucial in the conceptualization and creation of metal architecture fixtures. Our CAD services precisely depict the size, shape, structure and flow of your urban enhancements. With your vision and environment in mind, our drawing specialists will create a definitive and accurate blueprint.
Galvanizing and Metal Powder Coating
Between weather and chemical exposures, urban architecture can become extremely corroded. Adding a protective layer enables the structure to better resist damage and deterioration. Our fabricators galvanize iron and steel by dipping it in a protective layer of zinc. We use powder coating to form a thick protective layer over metals including aluminum, steel and stainless steel. Our comprehensive service includes preparation and post-treatments.
Complete List of Metal Work Services
Metal fabrication
Metal work
Powder coating
Metal casting
Metal forming
Metal stamping
Metal spinning
Metal polishing
Metal finishing
Why Architects and Contractors Choose Hammersmith Metal
By offering an expansive variety of metal services, we're able to fulfill all of your needs in a one shop. Reducing the hassle and chaos of coordinating your urban landscaping project with multiple metalwork services saves you time and money by ensuring your metal work is delivered to specification. It also ensures a single, cohesive result in your private or public space. From the CAD drawing to the protective coating, our metal fabrication is tailored to your architecture, style and functionality.
Metal Fabricators Near Me
Regardless of your metalwork needs, our highly adept craftsmen are ready with innovative and customized solutions. If you'd like to further explore our fabrication services, we'd love to speak with you. Give us a call today at 917-865-8791 or email.