Building The Architect's Dream
Reclaim, Reuse, Rebuild
Since 1985, Hammersmith Metal has revitalized American metal heritage from NYC and Brooklyn to Long Island, New Jersey, and Connecticut. Our talented team of craftsmen deliver innovative and customizable metal work solutions for private and public spaces.
Custom Metal
From vision and guidance through installation, Hammersmith Metal customizes its metal and design services to your individual project and needs. Trained in-house, each metal fabricator specializes in urban hardscapes and architecture. Whether you're a landscape architect, architect or general contractor, Hammersmith will help you reshape your environment while meeting the physical demands of your space. The design and materials are yours, the process is ours. Together, we create custom metal solutions that are both stunning and functional.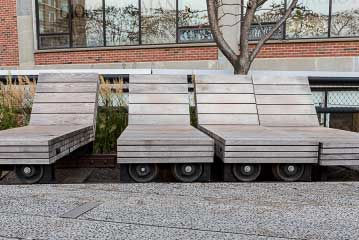 Wood & Metal Fabrication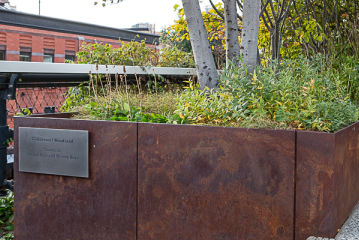 Creation, Restoration and Replication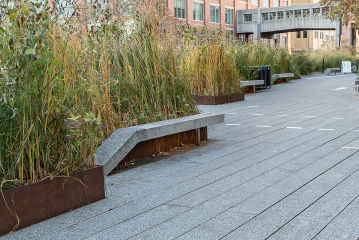 Urban Spaces & Parks, Waterfronts, and Rooftops
Innovative Technology + Time-tested Craftsmanship
From CAD drawing services and fabrication to final production, we offer all the services critical to your project. Our metal fabricators will work with your existing designs or conceptualize new ones. We can recommend and acquire the necessary materials including metals, woods, and finishes. Once the materials are selected, we begin the production process, delivering a final product guaranteed to surpass your expectations. With an innovative synthesis of shape, structure, and substance, we transcend the boundaries of conceptual design from start to finish.
Types of Projects and Services
With a strong conceptual understanding of metal fabrication in urban landscapes and architectures, Hammersmith offers a full array of metal fabrication services including restoration, fabrication and finishing to assist on your project. Below is just a sampling of the different types of projects, architectures and landscapes we have recently completed:
Sustainable and Renewable Materials
Hammersmith Metal uses sustainable and renewable materials that lend themselves to the demands of urban landscaping. Using a variety of materials, we transform your vision into a reality. Our metal fabricators craft hardscapes and furniture with a variety of materials including copper, stainless, aluminum, steel, brass corten, zinc, ipe, teak, and walnut. To create custom metal work, we employ the materials that best embody your projects architecture, functionality and style, ensuring our metal work accentuates your space.
Areas Served
Hammersmith Metal Fabricators specializes in the design, fabrication and manufacture of customized metalworks for urban parks, waterfronts and rooftops. Our portfolio of fabrication project can be seen throughout the following areas:
New York City
Brooklyn
Staten Island
Long Island
Staten Island
Connecticut
New Jersey
6 Reasons Architects and Contractors Choose Hammersmith For Their Fabrication Projects
Strong conceptual understanding of metal fabrication towards existing landscapes
Extensive work experience on urban hardscapes including parks, waterfronts and rooftops
Knowledge of all aspects of fabrication from CAD design through installation
Expertise with all materials, conditions and architectures
Resume that includes some of the East Coast's most renowned metal structures
Commitment to the customer experience with unparalleled service that includes timely delivery
Experience Counts
All Materials, Conditions and Architectures
From architectural, decorative, and ornamental metalworks to solid, functional fabrication, Hammersmith Metal has developed a reputation for creating high quality fabrication that accentuates urban landscapes. Our fabrication work is showcased throughout New York City, Brooklyn, Staten Island, Long Island, Connecticut and New Jersey.
To learn more about our services or submit your specifications, give us call at 917-865-8791 or email us and put our 30 years of fabrication success to work on your project.